Channel 155796-kca_slow
General data
Metadata classes
Animal Model: guinea pig
Brain Area: gastrointestinal tract
Neuron Region: soma
Neuron Type: intrinsic sensory neuron (ISN)
Runtime Q: Q4 (slow)
Subtype: not specified
Metadata generic
Age: not specified
Authors: Z Mainen, M Hines, R Scorcioni, J Chambers
Comments: Ca-dependent potassium current taken from reuveni et al. (1993) for neocortical cells. Written by zach mainen, 1995. Modified by m hines and r scorcioni 2002, j chambers 2012. Originally from mainen & sejnowski (1996), model no. 2488, so that is cited here. Animal model is from experiments in paper. Channel kinetics were adapted from various sources. This channel was taken from previous model of layer 5 pyramidal neuron (mainen & sejnowski 1996).
Runtime: 75.604
Temperature: Model has temperature dependence, with q10 set to 2.3 and original kinetics at 23 deg C.
Current Response Traces
Activation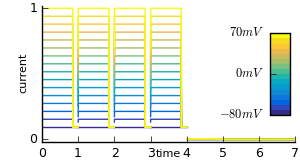 Inactivation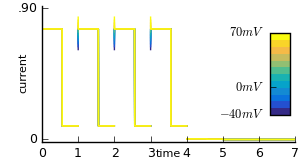 Deactivation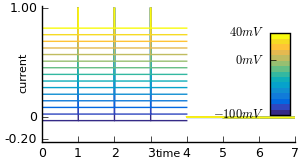 Action Potential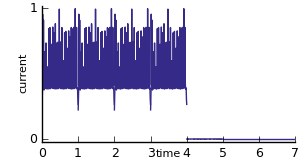 Ramp