Channel 20756-kahp
General data
Metadata classes
Animal Model: Wistar, rat
Brain Area: layer 2/3, cortex
Neuron Region: soma, dendrites
Neuron Type: pyramidal cell
Runtime Q: Q2
Subtype: AHP
Metadata generic
Age: adult
Authors: M Lazarewicz
Comments: Potassium ahp type current for rd traub (2003), implemented by m lazarewicz 2003. Formalism as in traub et al. (1994), but modified (see paper). No modeldb ancestors. Model, along with some experimental results. The animal model here is from the experimental results in this paper. Kinetics previously used for rodent hippocampal pyramidal model (traub et al. 1994).
Runtime: 71.918
Temperature: No temperature dependence.
Current Response Traces
Activation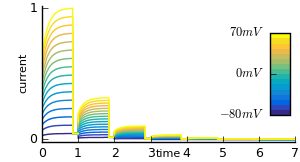 Inactivation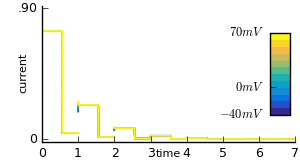 Deactivation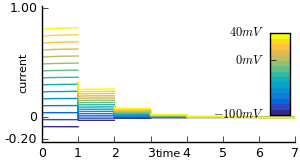 Action Potential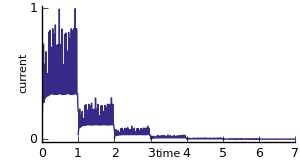 Ramp