Channel 149737-ih_stochastic
General data
Metadata classes
Animal Model: rat
Brain Area: layer 5, cortex
Neuron Type: pyramidal cell
Runtime Q: Q4 (slow)
Subtype: h
Metadata generic
Age: juvenile (P14-16)
Authors: S Hallermann
Comments: Stochastic ih channel as described in kole et al. (2006), model no. 64195, with no changes (identical mod files). Modeling study, with no experimental results. Authors mention that channel parameters were meant to match those of a juvenile rat (pg. 1818), so this is interpreted as the animal model. Otherwise, this can be considered generic.
Runtime: 105.752
Temperature: No temperature dependence.
Current Response Traces
Activation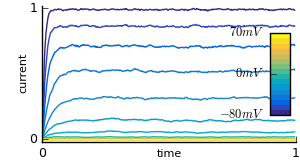 Inactivation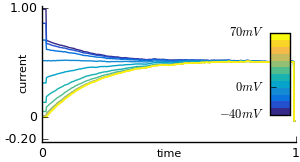 Deactivation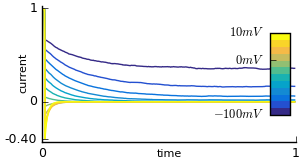 Action Potential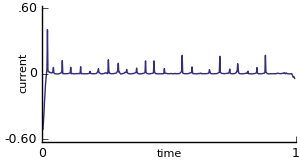 Ramp