Channel 112685-Golgi_hcn2
General data
Metadata classes
Animal Model: Wistar, rat
Brain Area: granule cell layer, cerebellum
Neuron Region: unspecified
Neuron Type: Golgi cell
Runtime Q: Q2
Subtype: HCN
Metadata generic
Age: 16-21 days old
Authors: S Solinas, L Forti, E D'Angelo
Comments: Cerebellum golgi cell hcn2 model, by s solinas, l forti, e d'angelo 2007, data from santoro et al. (2000). Hcn1 and hcn2 make up the i-h current. No model db ancestors. Modeling paper and complementary experimental paper. This channel was modified from an ancestor model of a cerebellar granule cell, animal model below is that of the experimental results in this paper.
Runtime: 13.275
Temperature: Model has temperature dependence. Simulations were done at 23 deg C.
Current Response Traces
Activation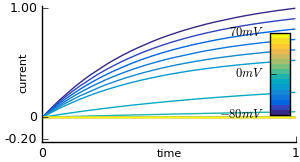 Inactivation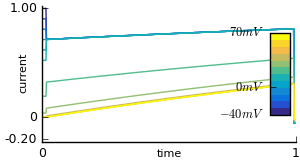 Deactivation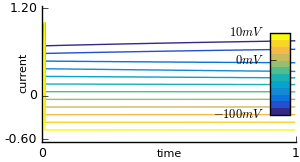 Action Potential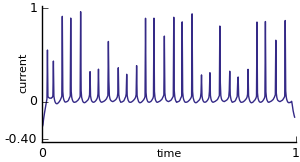 Ramp